It was mid-afternoon on a cold and snowy Saturday, so do I stay inside where it's all toasty and warm? Nope. I hopped in my car and headed down to the Gold Coast Mall in Ocean City, Maryland, to check out the Second Annual President's Day Craft Fair, wearing all three of my hats; my personal scopin' out the scene for myself hat, my lookin' out for my team hat, and my blogger's hat.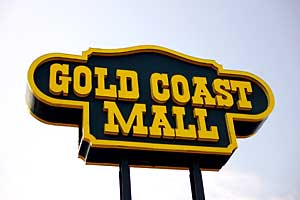 When I arrived I was pleasantly surprised to see the craft show announcement on the marquis at the main entrance. That's a good sign. Another good sign was that, despite the yucky weather, the parking lot was relatively full. (There was a boat show in the nearby convention center, so I figured some of the spillover had to head this way, plus with bad weather folks would be looking for something to do indoors.)

This is the parking lot on a good day. Notice the marquis at the bottom center of the photo.
 Once inside I saw a row of vendors, one with a double spot, down the center of the mall, and a few folks meandering about the tables. Most of the stores were open, but a few were closed, which surprised me, since it was a Saturday and a holiday weekend, at that. I did notice obviously handmade items, but also some definitely not handmade. When I got to the central walkway I saw three tables to my right, with a gentleman standing nearby. One table had handmade teddy bears made of a variety of fabrics, the middle table had handmade purses, and the last table had lamps made out of bottles. The Jack Daniels bottle made me do a double take. Clever. I soon found out that he was guarding the spot for his wife, Debbie Byrd, who also happened to be the coordinator of the craft show. With one quick call, she was on her way to meet me.

Debbie Byrd in front of her bottle lamp creations.


Last year there were only six vendors, but the craft fair did well enough for Debbie to offer it again. This year there were 20 vendors, with 3/4s of them offering handmade goods. The craft fair ran from Friday, February 15th to Sunday, February 17th. Vendors could get a two day spot for $75 or all three for $100. The event was advertised in local newspapers, fliers in the stores, and postcards were placed in nearby hotels and given to the vendors to promote the event. It was also advertised on Channel 5s calendar of events during the morning neews as well as a blurb on WBOC on Friday morning.
There are two more craft fairs scheduled for this year, one in May (17th-19th), The Cruisin Craft Show, which coinsides with the car show in Ocean City, and one later in the Fall. Because of the size of the mall, there is a limit of 29 vendors, with a preference going to those who offer handmade goods. For more information, or for a vendor application, contact Debbie at
flowerpotbabies@yahoo.com
.

I thanked Debbie for her time and went to check out the rest of the craft fair. I came across two well dressed, very friendly ladies, both with a three table set-up, and both with a wide assortment of handmade jewelry. Jean Bozman, of Jewelry by Emma J, is not new to the craftshow circuit, but hopes to expand to the virtual world soon. Her friend, Catherine Morrisey, owner of Jewelry by Catherine, is in the process of opening up her very own Etsy shop. Both ladies were busy with customers, so I snapped a quick picture and moved on.

Jean Bozman with some of her lovely creations.





Catherine Morrissey showing me one of her necklaces.


The next booth I came to was the Sweet Air Soap Company, where variety of sweet smelling cold pressed soaps were set out in nice, neat rows. I chatted with Mike and his preance (more serious than boyfriend and girlfriend, but not quite engaged). They said they were pleased with a steady stream of customers and said they would definitely return, with a bigger table set-up next time.

Mike and Cindy proudly showing off some of their sweet smelling soaps.
The last booth I visited was Hilary Jump's and her beautiful collection of handmade seaglass jewelry. This was her first craft fair and she saw it as a learning experience. Check out her brand new shop,
Fansea Glass Jewelry
on Etsy.
Hillary Jump and her Fansea Glass Jewelry.


This was a small, but promising craft show. Next year expect to see me with my shop,
TheGoodOleDays
at the Third Annual President's Craft Fair.
Lisa Haley
TheGoodOleDays